isnin 1/6/2009 - operasi mencari axe murah bermula hari ni, aku bersama kazen bubar aku, en. cimca (mula2 joad takilala pun mau ikut tp trpksa tarik diri last minute atas urusan keluarga) dipendekkan cerita kitorg sampai area kk around 1030hrs. dlm perancangan round kk semata2 nak survey harga saja, klu ada yg dlm bajet aku terus kebas... mula2 bajet aku RM700, tp disebabkan ujung bulan ni ada kursus database kat intan kampus sabah (dah pindah jln. sulaman bkn kat likas lg), terpaksa aku cut short bajet jadik RM400-500
lokasi pertama - hollywood music, kompleks karamunsing
sblm memboroikan diri kat mcd, kitorg singgah terus pi hollywood music. masuk2 je mata aku terus terpaku kat showcase ibanez prestige series yg terdiri drp S series, SA series, RG series... pergh!~ plng murah pun RM2.5k, nasib baik xde RG idaman RG420EG BAM klu x mmg meleleh air liur. kitorg tanya kat patron tu klu2 ada brand SX or stagg, then dia tunjuk ada 1 SX GG1 les paul putih dgn harga promosi RM630 (mcm2 la dia melalut pasal SX ni sound best drp gibson la itu la ini la, cimca tahan senyum kat blkg) aku minta kurg lg dia kata mmg sdh harga promosi xdpt kurg lg. aku rasa dia nak stock clearance ni, lgpun gitar tu dah nmpk calar2 sket. xpe, masih awal lg & byk lg tmpt utk disurvey... so kitorg pi mcd memboroikan diri dulu dgn big breakfast set
lokasi kedua - guitar point, penampang
jauh jugak guitar point ni drp bandaraya kk, aku rasa ramai org tak tau tmpt ni sbb kedainya mcm tersorok sket. kat showcase mostly fender & gibson RM2k ke atas, epiphone kat sini pun xbleh tahan hrga, bergegar lutut tgk price tag. kat sini xde yg murah dan menarik... so off to next location!
lokasi ketiga - victory music, kpg. air (victory @ victoria?)
aaa... tmpt ni aku rasa mcm menarik sket, sbb apa? sbb kat sini ada jual bbrp gitar yg aku target, ibanez GRX20, GRG121, dan GRG170 tp semua over bajet RM700-900. ibanez X series pun ada 2 kat sini, Xiphos dan Iceman (rough figure RM2k) RG series pun byk mostly yg ada decal kat body (pic kat bwh, top row) apsal aku berminat sgt dgn ibanez eh?
kat sini ada gak les paul copy drp washburn (pic kat atas, lower left) & starsun yg mmg comel dgn harga yg berpatutan dlm RM600-700. aku juga ditawarkan Squier Bullet dgn harga RM650 (harga asal RM698) ada jugak patron tu tawarkan aku Squier Bullet RM530 tp bkn stok kedai ntah aku pun xtau sbb dia kata ni deal luar, aku ekceli xsuka deal2 yg jenis camni kot2 nnti barang curi ke hapa secara xlangsung aku pun bersubahat. aku sket lg nak terbeli santa cruz ntah apa model (pic kat atas, no 2, 3 & 4 from lower left), body mcm ibanez headstock mcm jackson (pickup S-S-H) dgn harga diskaun RM380 (harga asal RM420) mmg bwh bajet, tp atas sbb2 tertentu hold-on dulu xjd beli >:) yg aku xberkenan kat kedai ni klu kastemer kompom nak beli baru dpt test power... pyh la klu camni, kastemer pun ilang minat nak beli
lokasi keempat - hollywood music, kk plaza
lepas lunch nasi ayam kat food court kitorg serbu hollywood music ni plak (yg ni branch, main office dah serbu pg td kt karamunsing) en. jairo bg info bc rich ironbird beliau dibeli di sini. mockingbird yg kabarnya nak dibeli bln 7 nnti pun ada aku tgk yg kaler silver
en. cimca tertarik dgn epiphone Emily the Strange G-130 tp harga mmg sakit lutut la (RM2k+) tp kat sblh emily ni ada epiphone Les Paul Special II kaler itam mmg cantik dgn harga yg berpatutan RM999 (klu deal2 maybe bleh dpt RM900-950 kot, kena ajak en. jairo skali)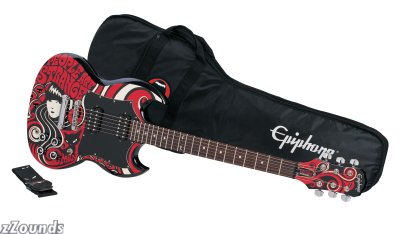 imej2 kat atas link drp web zzounds, aku pun klu aku minat epiphone, maybe aku target gak yg kaler itam tu. SX & samick pun ada gak tp ntah apsal hrga mahal smcm je. operasi hari tu diakhiri dgn keputusan utk beli santa cruz RM380 kat victory music, tp malangnya bila kitorg dtg semula, kedai tu dah tutup (ekceli 1 jun tu public holiday kaamatan so kedai ni bukak half day). bila aku nak beli sesuatu tiba2 ada mcm2 yg menghalang maknanya benda tu mmg xsesuai dgn aku, ada hikmahnya klu aku xbeli... maybe aku xsesuai dgn santa cruz, so blh beli yg lain... sabar2 dulu tmbh bajet utk target ibanez, squier or epiphone :)
to be continued...
[mini entry] iron maiden - the number of the beast
dgn rasminya jugak aku menambah koleksi cd (ori, enhance cd) iron maiden aku, album the number of the beast, beli kat goblinz kk plaza dgn harga RM39.00 (after discount 90 sen) manufactured & printed in malaysia by EMI. aku xsmpt nak snap pic (malas) so sbg ganti aku ltk pic berikut link drp wikipedia
imej link drp
wikipedia
(eddie lebih berkuasa drp setan!)
spt peminat generasi kedua yg lain, aku start meminati iron maiden slps dgr album somewhere in time serta seventh son of the seventh son dan bknnya album ni... so, bg aku album ni xde apa2 kaitan nostalgia (cuma pelengkap koleksi) sbb album ni release thn 1982 (umo aku baru 2 thn). pada peminat2 tegar iron maiden, album ni merupakan must-have collection sbb bruce dickinson debut dlm album. lagu febret aku dlm album ni ialah children of the damned (tgh blajar intro bass), the prisoner, run to the hills (antara lagu pertama maiden yg aku dgr) dan hallowed be thy name
_____
p/s: mencari 'lobang2' tmbh bajet mau beli ibanez... tp apa2 pun hrga kat kk mmg lbh murah drp bintulu