part 1 - nasik kandaq!

sebahagian drp kandungan blog ni pernah aku publish dlm blog aku dulu2 (yg aku dah delete)
td cimca (kazen aku) sms aku pasal rancangan kat astro prima 'warung kita' episod kali ni cerita pasal warung2 kat penang. aku tgk kejap then aku cpt2 tukar channel... xsanggup aku nak tgk! bkn apa, nnti aku takut aku rindu mknn2 kat penang nun... thing that i'll miss about penang (other than *ehem* my x-awek2 usm) are the foods!
kat penang ni ofkos ada byk pilihan mknn yg murah2 & sedap... tp skop aku kali ni pasal nasik kandaq! penang mmg terkenal dgn nasik kandaq (kandar, sebut kandaq lg best) lain org lain selera... tapi bg aku, meh aku list my top 5 best nasik kandaq in penang (island)

pic cilok drp web onestopmalaysia.com
1. abu nasi kandar, bali-bali cafe, sg. dua (dpn usm) - dulu2 gerai dia bukak kat dpn makro, kat area pasar mlm (sabtu) sg. dua... atas sbb2 birokrasi, 2004 pindah ke cafe mandarin bali-bali cafe. aku start mkn kt sini since aku menyewa kat desa permai indah (hamna) somewhere in 1998. buka setiap hari (kecuali jumaat) around pkl 6 ptg smpi 10-11 mlm bergantung kpd lauk & kastemer. menu utama aku klu mkn kat sini - nasi putih (klu tadak nasi tomato/minyak), kari daging, ayam goreng (panas2 baru kluar dari kuali), ayam madu (this one premium sket, klu nak mkn kena dtg before 7-8 pm sbb slalu sold-out!), kentang kari kambing dan seperti biasa kuah campoq! (trademark nasi kandaq) price range utk menu aku rm3.50-5.00! berbaloi dah murah kdg2 tolak lg discount for loyal customer. 1998-2005 klu dikirakan, aku plng byk mkn kat gerai ni (atau tapau) berbanding aku mkn kat tmpt2 lain kat penang... last skali aku mkn kat sini ogos 2007, brother abu ni still kenai aku lg... "alo adik, lama tara nampak?"... "ooo... skrg sdh kerja kat swk ka? jauh noo~"
Abu Nasi Kandar, Jalan Sg Dua, opposite Makro. A favourite with undergraduates from nearby Universiti Sains Malaysia, this stall cooks a unbeatable chicken liver curry and the long lines of people queuing before the stall opens at 6pm will attest to the fact that Abu's curries are to die for
- artikel cilok dari website MayaKirana
2. restoran pandan hijau, opposite bkt jambul shopping complex - aku slalu sggh restoran ni slalu time ujung2 mggu lps tgk wayang @ shopping2 cd/dvd kat bkt. jambul. yg ni plak yg menu utama aku nasi putih/tomato, kari daging cincang, kuah ayam kicap, karot, teloq mata kerbau, kuah banjir... rm4.00-6.00
3. shariff nasi kandar, gelugor (glugoq) - bukak setiap hari kecuali jumaat slps pkl 6 ptg... kdg2 belum bukak lg kastemer dah sanggup berbaris! aku kalau mkn kat sini jrg order lebih2 sbb kdg2 nak cpt. menu aku nasi putih, kari daging, teloq dadar/mata kerbau, kuah campoq... rm2.50-4.00
Shariff Nasi Kandar, Gelugor (in front of Gelugor 7-11) Now this is definitely an institution! For all you know, the curries are flavoured with dust from the nearby road but who cares when the curries are this good? Shariff Nasi Kandar has been around for as long as anyone can remember, and rumour has it that this guy sells some 1000 plates of nasi kandar a night! Just pick out the long lines of people and you're at the right place. Service is really fast, so make up your mind what you want on top of your rice instead of riling the others behind you. Opens around 6pm

- artikel cilok dari website MayaKirana
4. restoran line clear, penang road (opposite odeon cinema) - this one was truly a legend (kat tv ada byk rancangan mknn yg review tmpt ni) 1st time aku mkn 1997... last time aku mkn 2007... tp tmptnya xprnh berubah. masih dgn cliche 'gerai celah2 lorong tepi jalan'... aku rasa yg ni la mmbuatkan kastemer dorg still maintain, berbaris panjang! (termasuklah aku) menu standard nasik putih, daging 2 ketui, karot, teloq rebus... rm3.50-5.00 review kat onestopmalaysia.com
5. restoran nasi kandar pelita, sg. dua, opposite mcdonald's - aku ekceli jrg mkn nasik kandaq kat restoran ni, slalu2 aku mkn nasi putih + sup daging/ayam atau order tandoori set + cheese nan... slalu lepak belah mlm terutama bila mlm selasa layan wrestling kat plasma tv besaq restoran ni (aku dulu tadak astro, so layan kat restoran pelita) ataupun mlm ujung mggu layan tgk bola dgn mmbr2... disbbkan nak cerita pasal nasik kandaq, kat sini slalu menu aku standard nasik putih, 2 ketui daging (atau seketui ayam madu) + kuah campoq... price range rm3.00-4.50 mamat2 waiter shift siang xbrapa kenai aku, tp klu yg shift mlm mmg ramai yg kenai, siap bleh tau aku punya menu... "aloo macha, ini mlm mau nasi putih sup daging?" cashier shift mlm pun (yg muka mcm osama bin laden) mmg kenai aku, klu aku dtg mlm selasa dlm kol 10, cpt2 dia tukaq channel pi channel astro supersports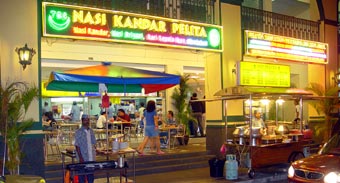 pic cilok drp web nasi kandar pelita
bknnya nasik kandaq tmpt lain xsedap... cuma disebabkan aku slalu pi gerai2/restoran2 yg aku mentioned kat atas ni, jadila favourite. aku perancangan tahun ni nak pi penang, last skali aku pi tahun 2007 sbb ada kursus induksi kat sg. petani, kedah then after that konvensyen kat langkawi plak, so sggh la kat penang... abu nasik kandaq, aunty db music... i'll be back!
to be continued...
_____
p/s: bintulu pun ada nasik kandaq, tapi xsehebat/semurah kat penang